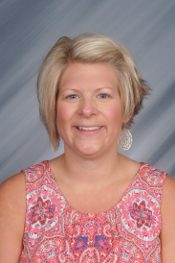 Tanya Kooistra is in her 13th year teaching at Holy Spirit.  She teaches 5th grade English, 5th grade Reading, 7th grade English, and is lucky enough to work with Mrs. Swider as a remedial reading teacher. Mrs. Kooistra is also the chair of our Student Assistance Team (SAT). Mrs. Kooistra attended Holy Spirit School for Kindergarten and 1st grade, until her family moved to Cadillac, Michigan.
In 2000, Mrs. Kooistra returned to Grand Rapids where she attended Aquinas College. She received her Bachelor of Arts degree, emphasis in K-6 Language Arts as well as her early childhood certification in 2005. She continued her education at Aquinas College, pursuing her Masters in the Art of Teaching, K-12 Reading Specialist.
She just couldn't get enough of Aquinas, so last Spring (2018) she started teaching for them as well. Mrs. Kooistra teaches Content Area Literacy, which is in the school of education department. She has thoroughly enjoyed getting to inspire the next generation of teachers.
Mrs. Kooistra and her husband celebrated their 5th anniversary on June 15, 2017. They have two daughters, Charlotte (March 16, 2015) and Lucy (April 18, 2017), both of which were baptized at Holy Spirit Parish. Her mom is the Director of Religious Education over at St. Alphonsus, so they can be found church hopping between the two parishes.
Besides taking care of Charlotte and Lucy all summer, Mrs. Kooistra is an avid yogi and enjoys going on long stroller walks with her daughters. She also loves spending time by the water and in the sunshine, reflecting on all of the beauty that God has created!!
If you have any concerns that Mrs. Kooistra should be aware of about your child, please contact her by email. It takes a team or a village to raise a child, and we are in this together!