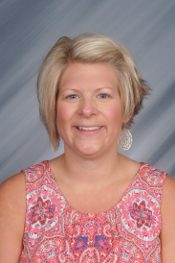 Tanya Kooistra is in her twelfth year teaching at Holy Spirit. She is a 5th grade homeroom. She teaches 5th grade English, 5th grade Reading, 7th grade English, and is lucky enough to work with Mrs. Swider as a remedial reading teacher. Mrs. Kooistra attended Holy Spirit School for Kindergarten and 1st grade, until her family moved to Cadillac, Michigan.
In 2000, Mrs. Kooistra returned to Grand Rapids where she attended Aquinas College. She received her Bachelor of Arts degree, emphasis in K-6 Language Arts as well as her early childhood certification in 2005. She continued her education at Aquinas College, pursing her Masters in the Art of Teaching, K-12 Reading Specialist.
Mrs. Kooistra and her husband celebrated their 4th anniversary on June 15, 2017. They have two daughters, Charlotte (March 16, 2015) and Lucy (April 18, 2017), both of which were baptized at Holy Spirit Parish. Her mom is the Director of Religious Education over at St. Alphonsus, so they can be found church hopping between the two parishes.
Besides taking care of Charlotte and Lucy all summer, Mrs. Kooistra is an avid yogi and enjoys going on long stroller walks with her daughters. She also loves spending time by the water and in the sunshine, reflecting on all of the beauty that God has created!!
If you have any concerns that Mrs. Kooistra should be aware of about your child, please contact her by email. It takes a team or a village to raise a child, and we are in this together!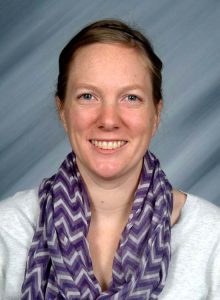 Hello! I am so happy to be returning to my Alma Mater! I am a Holy Spirit graduate of 2003 (my maiden name is "Emmerson"). It has been a fun experience to start teaching with 7 of my former teachers!
I am also a 2007 graduate of West Catholic and a 2011 graduate of Michigan State University. I am continuing my education through MSU, currently working towards a Masters in Teaching and Curriculum with a focus on becoming a Literacy Specialist. I love helping struggling readers become more confident!
After a full year of student teaching in Lansing, I moved to San Francisco and taught K-8th grade Physical Education and Adaptive Physical Education. I then moved to Omaha to teach first grade. This past year, I taught 2nd and 3rd grade at Grand Rapids Child Discovery Center, down by Catholic Central. My husband, who was in the construction business, has since settled with an engineering firm in Holland so we can raise our family here in Michigan.
So far, our family consists of Eden, who was born in April of 2015, and Anna, who was born in June of 2017. I am so happy to be in a shared-time position with Tanya Kooistra, making it so I can continue to teach while still spending most of my time home with my daughters.
I love spending time outdoors and remaining active, two passions I hope to be able to incorporate into the classroom as much as I can. I aim to design lessons that are driven by student-interest, and I am excited to work towards including my faith in my teaching on a daily basis!