Ms. Kim Reynolds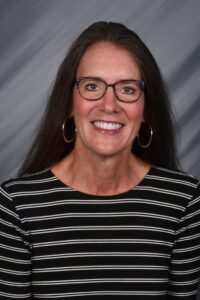 Our young fives teacher is
Kim
Reynolds
who taught readiness kindergarten and kindergarten at Comstock Park Public Schools. Her bachelor's degree is from Aquinas College, and her master's degree is from Western Michigan University. She met lifelong friends when she sang with the guitar group at Holy Trinity Parish.
During the summers, she works in the suites for the West Michigan Whitecaps and volunteers for Kids' Food Basket, Meals on Wheels, and John Ball Zoo.  She enjoys walking, yoga, sports, little people, and spending time with family and friends. One of her favorite quotes is "To the world you might be one person, but to one person you might be the world."  
Kim
looks forward to meeting her students and working with the staff at Holy Spirit School!
Contact Ms. Reynolds at  kreynolds@hsparish.org