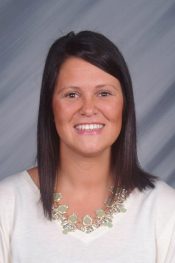 Lizzie Duffy is a 4th grade homeroom teacher at Holy Spirit.  This is her 5th year teaching.  She teaches 4th grade Social Studies, Religion, Math, English, and Reading and 5th grade Social Studies.  
Mrs. Duffy attended Holy Spirit School.  She is a 2008 West Catholic graduate and attended Grand Valley State University, where she earned her bachelor's degree in Elementary Education.  Laker for a Lifetime!   While at Grand Valley Mrs. Duffy was blessed to have the opportunity to study abroad in the Netherlands and while she was there she taught in an international school.
 Mrs. Duffy is married to a Holy Spirit and West Catholic graduate as well.  Mrs. Duffy and her husband have been married 4 years.  The two have a fur baby named Gordon Whitefoot (a cuddly and unpredictable cat).
Mrs. Duffy enjoys reading, camping, hiking, fishing, traveling, and working out in her free time.  Her favorite place in Michigan is the Upper Peninsula.  She is a serious Notre Dame and Tigers fan.
God is Good!  Here's to another year filled with blessings!
Contact Mrs. Duffy:  eduffy@hsparish.org