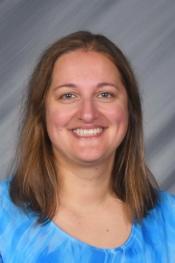 Michelle Null is currently in her 23rd year of teaching at Holy Spirit School. She is one of the middle school teachers and her roles include teaching sixth, seventh, and eighth grade science along with seventh grade English. In addition, Mrs. Null maintains the middle school iPads and coordinates Infinite Campus for our school. Mrs. Null earned a bachelor's degree from Aquinas College, as well as a master's degree in science education from Aquinas College. Mrs. Null lives in Grand Rapids with her husband and son. In her spare time, she enjoys spending time with her family, watching local sporting events, and being actively involved in her parish community.
Contact Mrs. Null:  mnull@hsparish.org
6th Grade Science
Review Material:
Scientific Method Review Games and Activities
Experiment, Data, & Conclusion Games
Observation, Question, and Hypothesis Games
Measurement and Density Review Games and Activities

Measurement and Density Vocab Games
Mr. Parr Weight, Mass, and Gravity Song
Density Simulator (will not work on iPads; laptop or desktop only)
Relationships of Organisms Unit

Populations, Communities, etc. Games
Food Webs and Chains Games
Relationships between organisms games
 Human Impact on the Environment

Human Impact on Env. Vocab Games
Human Impact on Env. Prefixes and Suffixes Games
Earth Interior Review Games and Activities
Rock and Minerals Unit Review Games and Activities
7th Grade Science
First Semester Units:
Motion and Energy Review Material
Energy Transfer Review Material:

Radiation, Conduction, and Convection Song (Mr. Parr)
Waves Review Material
Mr. Parr – Electromagnetic Spectrum Song
Mr. Parr – Just like an Echo Song
Second Semester Units:
Cells and Living Things

Characteristics of Living Things Games
Plant Reproduction Review Material
Review Jeopardy (plant reproduction)
Photosynthesis Review Material

Atmosphere Review Material

Warming of the Earth's Atmosphere and Human Impact on the Atmosphere Games
Climate & Weather Games

Ocean Currents and Climate Games
8th Grade Science
First Semester Review Material
 Reproduction and Genetics Units Review Games and Activities:
Body System

Muscular and Skeletal System Games
Digestive System Games
Second Semester Material
Earth's Interior Review Games and Activities
Earth's Geological History Review Games and Activities (Students may use geological time scale sheets from class on this test).
Earth's History Review Jeopardy
Hydrogeology Review Games and Activities (Students may use Great Lakes Data Sheet & Great Lakes Input/Outputs sheet)
Changes in Matter Review Games and Activities:
Chemical and Physical Changes Games
Review Jeopardy-Changes of Matter Unit
 Elements/Properties of Matter Review Games and Activities
Elements and the Periodic Table Games
Mr. Parr Video-Inside an Atom Song
Mr. Parr Video-Periodic Table Song
Mr. Parr Video-Atomic Structure Song
 Acids and Bases Review Games and Activities
Acids and Bases Vocabulary Games
Mr. Parr Video-Acids, Bases, & Salts
7th Grade English
First Semester Material
Grammar Review Games:
Unit 3- Pronouns
Vocab Games and review material:
Vocab Unit 1 Games and review material
Second Semester Material
Grammar Review Games:
Unit 5- Prepositions
Vocab Review Games:
Vocab Lists (Level G)
Vocab Unit 8 Games
Vocab Unit 9 Games
Vocab Unit 10 Games
Vocab Unit 11 Games
Vocab Unit 12 Games
Vocab Unit 13 Games
Vocab Unit 14 Games
Vocab Unit 15 Games