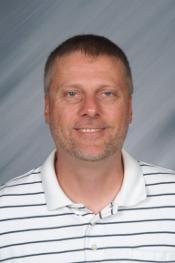 Tom Wisniewski (Mr. W) is currently in his 18th year of teaching at Holy Spirit School, serving as a Social Studies and Religion instructor for grades 6 through 8. Prior to teaching at the school, he served two years as a Religious Education Instructor for the parish. Mr. Wisniewski earned a bachelor's degree in education from Grand Valley State University. Previously he had earned a bachelor's degree in business from Ferris State University and spent more than a decade working in production management.
Mr. Wisniewski and his wife, Brenda, have been members of Holy Spirit Parish since 1994. They have three daughters: Amanda, Rachel, and Sydney. They are also blessed with two grandchildren: Aubree and Finn.
Enjoying playing and coaching several sports, he has previously served as a high school assistant coach for both the Caledonia and Sparta football programs and his daughters' softball teams. Mr. Wisniewski supports his favorite college and professional teams, especially University of Michigan football and hockey, all of the Detroit professional teams, and whatever team Tom Brady is leading.
Contact Mr. Wisniewski:  twisniewski@hsparish.org