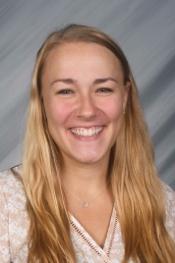 Mrs. Becca Couturier is starting her third year of teaching here at Holy Spirit! She recently got married to Mitchell, and they are the proud owners of a new puppy.
After attending Grand Rapids Christian Schools for K-12th grade, Mrs. Couturier earned her bachelor's degree in Elementary Education and Integrated Science from Grand Valley State University. After graduating, she was the director of a preschool in Rockford, taught in many classrooms as a substitute teacher, and finally had a first year of teaching in Comstock Park as a 5th grade virtual teacher.
Mrs. Couturier enjoys traveling and exploring, reading, and all things music. After an entire year of teaching virtually, she loves having a classroom to call home and a wonderful group of students to grow with as part of the Holy Spirit family! Go Titans!
Contact Mrs. Couturier: bcouturier@hsparish.org